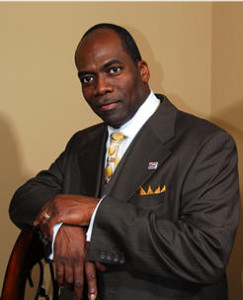 Since 1989, Dale L. Cudjoe serves as the Senior Pastor of Christ Temple Church of Christ (Holiness) U.S.A., 4201 Washington Street, Gary, Indiana. A church geared to the times but anchored to the Rock.
Dr. Cudjoe was appointed by the Presiding Bishop to serve as District Vice Chairman and Chairman of the Illinois, Indiana & Iowa District Churches 1983 to 2010. He was appointed Northern Diocese Convention Program Coordinator from 1994 to 2010 for the Church of Christ (Holiness) USA. The diocese is comprise of the following states:
Illinois
Indiana
Iowa
Michigan
Ohio
He was elected National Corresponding Secretary of COCHUSA in the 1996 and 2000 National Convention and served for eight years. He was reappointed to that position in September of 2007 to serve until July of 2008, serving out the term of the late Deacon Maurice Washington. He was reelected to serve until 2012. He served as Northern Diocese President of the Sunday School and Holiness Young People Union from 1986-1996, Treasurer of the National Publishing Board of COCHUSA from 1988-1996, and as a board member from 1988 to present. He was elected chairman of the National Publishing board in 2004 and was re-elected to serve a second term in 2008. He was appointed director of Bishop Charles Price Jones Music Contest for the National Sunday School and H.Y.P.U Congress (High School and College division) from 1988-1996. He was appointed Chairman of National Convention Publicity Committee in 2005 by the president of COCHUSA, in May of 2007 he was Appointed Co-Chair of the COCHUSA Manual Revision Committee, with the Constitutional Convention to be held in July 2008. He was appointed chair of Media Publications for the Church Health Initiative COCHUSA in July 2007, he was certified a COCHUSA Church Health Initiative Coach in May 2007. He was ordained an Elder in July 1983. In the 2009 National Convention, he was appointed President of the Council of District Chairman. In the National Convention held in St. Louis MO, on July 27, 2010, he was elected Presiding Bishop of the Northern Diocese effective July 28th, 2010, On July 24, 2011 in the 115th National Convention Lombard/Chicago Illinois he was consecrated a Bishop in the Church of Christ (Holiness) U.S.A and was assigned to serve as the presiding prelate of the Northern Diocese.
Dr. Cudjoe earned his Bachelors of Music degree in Music Education from Benedictine University (Illinois Benedictine College) 1978. He received his Master of Divinity (M.Div.) and Doctor of Ministry (D.Min.) degrees from Lake Charles Bible College in 2000.
He has received the pastor of the year "O.W. McInnis Award" in the Northern Diocese COCHUSA, for Commitment to Excellence in Ministry in 1997 and 2002 and have received many other awards, certificates and commendations from agencies and organizations near and far. The Gary Community School Corporation, Gary Local One Church One School Inc. Interfaith Clergy Council of Gary and Vicinity, Church of Christ Holiness USA, Illinois Indiana & Iowa District, the Northern Diocese COCHUSA Ministers Seminar, and the National Sunday School and Holiness Young People's Union, of COCHUSA, the COCHUSA, National Sunday School and HYM congress and Urban Ministries INC., Northwest Indiana Urban League, and the Tree of Life Missionary Baptist Church, the Drexel Foundation for Educational Excellence, the office of The Attorney General of the State of Indiana, The Gary Civic Chorale Black History Program, AMACHI Training Institute, Philadelphia PA, Christ Missionary & Industrial College Department of Religious Education, The Charter School Developers' Conference Madison Wisconsin, U.S. Department of Education. The Northwest Indiana Planned Giving Council, to name a few.